What is Auburn University known for?
Auburn University is one of the top highlights of Auburn, Alabama. The university has gone by many names over the years, starting as the East Alabama Male College and ending up as Auburn University in 1960. By any name, this large university is a longstanding staple of Alabama's educational landscape. It offers an extensive range of educational programs, boasts an impressive list of alumni, and serves up some fun traditions for students and fans alike. Here are some iconic things that Auburn University is known for.
The War Eagle Battle Cry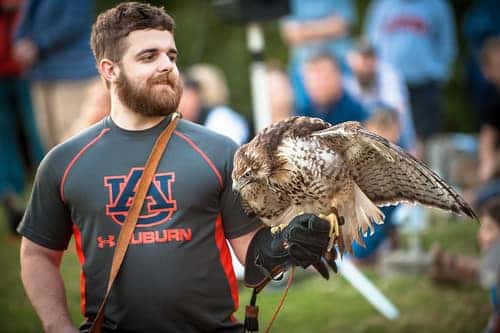 Image via Flickr by hyku
The war eagle is often mistaken for the Auburn University mascot, but this honor actually belongs to Aubie the Tiger. "War eagle" is actually the school's battle cry for victory. The origins of the war eagle cry are unknown, but there are
Another story tells of a 1913 pep rally where students were told that the upcoming football game "meant war." As the tale goes, one student in military uniform cheered so wildly that the eagle emblem fell from his hat. Picking it up, he cried, "It's a war eagle!" and the phrase quickly spread like fire through the fans.
However the war eagle came about, it's now a solid part of Auburn's football traditions. On home game days, the Southeastern Raptor Center puts on a presentation called Football, Fans and Feathers. The presentation includes free-flying raptors in the arena and concludes with a photo op for fans, where they can snap a selfie with several of the raptors, including the eagle.
The Storied Lathe
Auburn University has a historic lathe on display beside Samford Hall that was made to bore out Brooke rifles for the Confederates during the Civil War. The lathe was constructed in Selma, Alabama. It was slated to move to Columbus, Georgia, but the Confederates had to bury it on the way in Irondale, Alabama, to keep it from getting captured by Union soldiers. The lathe was later unearthed and used to bore cannons for the Confederates until their collapse in 1865.
After the war, the Birmingham Rolling Mills purchased the lathe, later presenting it to the Alabama Polytechnic Institute in 1936. The Polytechnic Institute went on to become Auburn University. The lathe continues to sit there to this day. University lore has it that a couple can test their faithfulness to one another by kissing in front of the lathe at midnight. If the lathe moves, someone in the couple has been unfaithful. If the lathe remains still, their faithfulness is assured.
A-Day and Hey Day
A-Day and Hey Day are two of the best-known annual events at Auburn University. On A-Day, the football team scrimmages at Jordan-Hare Stadium, giving fans a preview of the Tigers that year. This founder's day celebration draws fans from all over. This springtime scrimmage takes place in April.
Hey Day is another celebratory tradition at Auburn. This October event is intended to showcase the friendliness of the campus. Students wear name tags and say "Hey" to one another. The day also includes entertainment and free food. Hey Day hearkens back to the end of World War II when the tradition began as a way of properly welcoming soldiers back from the war.
Over 150 Degree Programs
Auburn University offers more than 150 degrees, so students seeking a wide range of opportunities can prepare for their futures here. Auburn's schools include:
College of Agriculture.
College of Architecture, Design & Construction.
College of Education.
College of Human Sciences.
College of Liberal Arts.
College of Sciences & Mathematics.
Harbert College of Business
Samuel Ginn College of Engineering.
School of Forestry & Wildlife Sciences.
School of Nursing.
Harrison College of Pharmacy.
College of Veterinary Medicine.
Auburn University's 2021 enrollment was 31,526 students, representing a 2.6% increase over the previous year. Undergraduate enrollment was highest for business and engineering, each of which had more than 5,000 students. Over 4,300 students were enrolled in liberal arts, and more than 2,400 were enrolled in sciences and mathematics. Graduate and professional enrollment was highest for business and engineering as well, each of which had more than 1,100 students. Education came in third for graduate enrollment with nearly 1,000 students.
Outstanding Alumni
Alumni from Auburn University go on to have a phenomenal impact on the world. Over a quarter of a million Auburn graduates have carried their knowledge on to celebrate new and exciting successes. Across the country, these graduates have 93 Auburn alumni clubs that they can participate in. Famous alumni include:
Ace Atkins, New York Times Best-selling Author.
Charles Barkley, Olympic gold medalist, former NBA player, and sports commentator.
Tim Cook, Apple Inc. CEO.
Kirsty Coventry, Seven-time Olympic medalist.
Jen Davis, retired astronaut with 673 hours logged in space.
Rowdy Gaines, Olympic gold medalist.
Kay Ivey, 54th (and second female) governor of Alabama.
Ken Mattingly, Apollo 16 astronaut.
Meghan McCarthy, YouTube personality.
Harold Melton, Georgia Supreme Court Justice.
Cam Newton, Professional football player and NFL MVP.
Eric O'Neill, former FBI counter-terrorism operative who captured spy Robert Hanssen.
Octavia Spencer, Oscar-winning actress.
Jim Voss, former NASA astronaut.
Jimmy Wales, co-founder of Wikipedia.
With names like this on the alumni list, students can head to Auburn in full confidence that they'll be in outstanding company when they join the ranks of university graduates.
Are you a fan, student, or alumni of Auburn University? What are your most prominent associations with the college? We want to hear all your facts, legends, and lore, from the best coffee shops on campus to the most popular football traditions. Contact our team at Hyundai of Auburn and share your thoughts with us. We love having the best local information around to deliver to our customers when they drive off our lot.