Dig Your Teeth into the Best BBQ in Opelika, Alabama
The neighboring city of Opelika, Alabama, is a railroad town with a downtown area and business hub filled with history, culture, and good food. With the variety of food options in Opelika, visitors can discover the taste of Alabama-style smokehouse meats and Southern classics, along with some Korean tabletop barbecue options to satisfy their cravings. To visit the city of Opelika, Auburn locals can take a quick drive east, taking routes past the airport area on Interstate 85 or past Hyundai of Auburn on Highway 14, to try out some of the barbecue places below.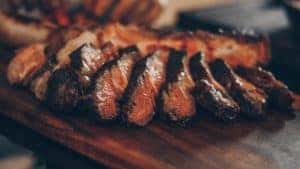 Image by emersonvieira is free to use under the Unsplash License

Bill and Robbie's Excellent BBQ Adventure
Veterans Bill Schwenk and Robbie Hughes began Bill and Robbie's Excellent BBQ Adventure as a food truck that offers late-night dining and catering services that feature dinner packages and specialty items. The menu highlights their character-themed items, such as "Patti" The Lunch Lady—which is a grilled cheese with pulled pork, pimento bacon mac and cheese, and more bacon—or The Uncle Phil, which is a barbecue Philly with pulled pork and pimento cheese. The food truck's services allow customers to order food for pickup or delivery, along with providing on-site food truck services by request.

Butcher Paper BBQ
Mark Coxwell began Butcher Paper BBQ as a mobile food unit serving smoked barbecue at local events and expanded to a brick-and-mortar restaurant in 2018. The restaurant is near the downtown area of Opelika and serves traditional style smoked beef brisket, pulled pork, ribs, and homemade sides. You can order their menu items for takeout, delivery, dine in, or on-site event catering. Their specialties include jalapeno cheddar smoked sausage and smoked wings with their homemade sweet, spicy, vinegar, mustard, or white sauces. They're open from mornings to evenings, serving build-your-own breakfast meals, lunch sandwiches, and family dinner meals.

Chickchickporkpork Grill
Chickchickporkpork Grill is a Korean fusion restaurant and grill that serves Korean-style marinated barbecue dishes with noodle bowls or rice plates. Their popular menu items include their beef bulgogi, marinated spicy pig skin, roasted squid, and spicy sea snails. At Chickchickporkpork Grill, you can try a variety of common Korean barbecue meals and explore dishes that may be new to you, like baby back ribs with cheese or marinated pig intestine. Chickchickporkpork Grill is located in Opelika less than a mile away from the mall in Auburn.

Chuck's Bar-B-Que
Chuck's Bar-B-Que is located down the block from the farmers market near downtown Opelika. They offer lunch, dinner, and tailgate specials that you can order for delivery, dine in, or takeout. Their pork, chicken, or rib plate options come with sauce, bread, pickles, and a choice of sides. You can order plates with one or more sides of their Brunswick stew, BBQ slaw, potato salad, macaroni salad, or any of their other options. Chuck's Bar-B-Que offers catering services with plates of pork, sides, and pickles, along with optional add-ons for fried chicken fingers, ribs, pie, or brownies.

Country's Barbecue Restaurant
Country's Barbecue Restaurant is located on Opelika Road a quarter-mile from Hyundai of Auburn. They offer a variety of healthier barbecue options—from their no-fat dressings to their skinned chicken fried in peanut oil—along with their freshly cut salads and delicious lemonade. You can order a variety of barbecue or country cooking platters with your choice of ribs, buttermilk fried chicken fingers, smoked ham, pork tenderloin, smoked turkey, Texas beef brisket, and other options. They feature a rotating menu with items that change daily, such as their all-you-can-eat barbecue chicken on Tuesdays or their brisket tacos on Wednesdays.

Full Moon Bar-B-Que
Full Moon Bar-B-Que is a classic Southern-style restaurant with smoked meats and sides available for online orders, catering, and dine in. This BBQ restaurant is near an outdoor shopping center so you can walk around and shop before or after eating their variety of Southern delicacies. You can try a variety of their food options with their Full Moon BBQ Plates that include barbecued meats, two choices of trimming, their famous chow-chow, and a toasted bun. They also offer value meals to go. Dedicated Full Moon food fans can purchase their sauces, apparel, and branded kitchen accessories.

Gohyang Garden
Gohyang Garden is a Korean tabletop barbecue restaurant with indoor and outdoor dining that allows customers to grill a selection of marinated and un-marinated meats at their table. Customers can order a wide range of raw meats and made-to-order dishes, along with complimentary dishes consisting of vegetables, noodles, rice, mashed potatoes, and other traditional Korean sides. The restaurant is just a short distance away from the center of Opelika's downtown area.

Twice Baked
Joseph Shorter opened Twice Baked in downtown Opelika during the summer of 2020. Twice Baked is a restaurant that offers online orders, deliveries, and dine-in options for their comfort food menu items like wings, ribs, and twice-baked potatoes. Their barbecue meats include smoked ribs, smoked wings, and pulled pork. You can enjoy Twice Baked's meats with their famous twice-baked potatoes containing your choice of steak, grilled chicken, pulled pork, or vegetable fillings. The restaurant also serves different types of food with a Southern style, such as hot dogs, sloppy Joes, Phillys, and tacos.
These barbecue spots are some of the best you can get in Opelika, Alabama, with honorable mentions for a couple of Auburn locations down Opelika Road. Whether you're looking for something classic or modern, these restaurants can satisfy your barbecue cravings. Each of these places listed offers a different style of barbecue and a variety of dining environments for you to experience.
You can plan a visit to support these local eateries and discover the variety of barbecue tastes that Opelika has to offer. Stop by Hyundai of Auburn during your trip or reach out online to let us know if you've tried the barbecue from any of the places listed. You can also let us know of any other recommendations for some good local barbecue. If there were any restaurants we missed, drop us a line, and we'll be sure to add it to our list.