Welcome to
Hyundai of Auburn
For Service & Parts
Car Care Services
Car care should be carefree. To make sure your driving experience is low on anxiety and high on satisfaction, we've developed Car Care. Complete and convenient vehicle service from an authorized Hyundai dealer using high-quality genuine Hyundai parts is an unbeatable combination that helps keep your vehicle running perfectly.
Hours of Operation
Service
Wednesday
7:30 AM-5:30 PM
Parts
Wednesday
7:30 AM-5:30 PM
Sales
Wednesday
8:30 AM-7:00 PM
Keeping up with car care shouldn't have to be a hassle. The team at Hyundai of Auburn understands that life gets busy, and we strive to make your experience with us as quick and easy as possible. When you visit us, you'll find that we offer convenient vehicle services at our certified Hyundai dealership. We use only high-quality genuine Hyundai parts and have the latest technology needed to get the job done quickly.
If you require an oil change, new tires, or any other services we offer, please don't hesitate to reach out to Hyundai of Auburn today. Our team is ready to help keep your Hyundai running at its best for years to come. We guarantee that we'll exceed all of your expectations and surprise you with our superior services.
Oil Changes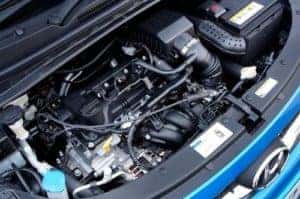 "Hyundai i10 MY 2011" by theKBC is licensed through CC BY 2.0
One of the easiest and most overlooked things you can do to keep your Hyundai running at its best is to get regular oil changes. Getting regular oil changes will help extend the life of your car tremendously since oil is one of the most essential fluids used in your vehicle. Engine oil helps to lubricate engine components and keep your engine running smoothly. Your oil is broken down and exposed to contaminants with everyday driving, reducing its lubricating properties.
Many people are unsure when they should get an oil change, and your owner's manual will tell you the frequency at which your Hyundai needs an oil change and the viscosity and grade of oil required. Some vehicles need oil changes every 4,000 miles, and some can last up to 7,500 miles. If you experience any of the following, you should come in for an oil change more frequently than other drivers:
Driving in gravel and rusty conditions.

Repeated short trips, such as school, work, or running errands. 

Driving on muddy or rough roads.

Repeated use of the brakes.

Driving more than 50% of the time in heavy traffic.

Operating for prolonged periods of extreme cold or humid temperatures. 
Tire Center
If you're looking for a full range of tire services, you've found the right spot. Hyundai of Auburn offers tire repairs and patches, tire rotations and balancing, and wheel alignments. Is your car driving funny? We can perform an inspection to check for wear and tear, align your tires if necessary, and balance your tires to help ensure they're ready for driving.
At our tire center, you'll be able to find the right tires for your Hyundai vehicle at competitive prices. Major brands include Continental, Kumho, Goodyear, Hankook, and more. Our factory-trained technicians will perform each installation to ensure proper fit and alignment.
Brake Services
Every time you press on your Hyundai's brakes, a complex system is used to help bring your vehicle to a stop. Unfortunately, not only can brakes be noisy or cause driving to become more difficult, but it can also be unsafe to drive a car with bad brakes on the road. It's time to have your brakes serviced if you notice the following:
Your brake pedal feels odd to touch, such as being softer or firmer than usual. 

You hear abnormal sounds when driving, such as squeaking. 

Your Hyundai pulls to one side while on the road when brakes are applied.

You have a dark brown fluid in your brake fluid reservoir. 

Your steering wheel vibrates when the brakes are applied.
Genuine Hyundai Battery Services
Your car's battery is essential when it comes to getting you where you need to go. Think of the battery as the heart of your vehicle. If it isn't working, your car won't work either. While all batteries look pretty similar, there are vast differences in capacities, sizes, and types of Hyundai car batteries. Luckily, you can prolong the life of your battery to some extent to help ensure it's able to supply power by driving smart, avoiding use when your vehicle is off, and getting regular battery maintenance performed. We also offer new Hyundai batteries at fair pricing.
Hyundai Complimentary Maintenance
Hyundai complimentary maintenance is now included with the purchase of new Hyundai vehicles. Keeping up with services will help keep your Hyundai running at its best for years to come. We encourage new Hyundai owners to keep up with maintenance, and this new program helps them stay on top of it. Hyundai Complimentary Maintenance covers routine, factory-recommended maintenance for three years or 36,000 miles. Benefits of this program include:
Multi-point inspections.

Engine oil and oil filter changes with genuine Hyundai oil filters and factory recommended oil.

Tire rotations.
Service Specials 
At Hyundai of Auburn, we understand that you work hard for your money. That's why we're glad to offer our customers deals and specials on their services with our dealership. Our specials are updated frequently, so be sure to give us a call or check out our current specials online to get the most for your money.
Why Choose Hyundai of Auburn?
We understand that choosing somewhere to trust with the care of your vehicle is a significant decision. That's why we work hard at Hyundai of Auburn to provide you with a dealership service center that you'll be happy to bring your vehicle. Our team comprises professionally trained technicians who use the latest technology and are up to date in the newest education regarding Hyundai vehicle maintenance and care. In addition, we offer fair pricing, genuine parts, and a flexible schedule to help better fit the needs of our customers. 
Call Hyundai of Auburn Today
Whether you require an oil change, brake service, or a new battery, we've got you covered at Hyundai of Auburn. Our service center has a team of expertly trained technicians skilled in the latest technology and equipment to get the job done quickly and correctly. You can schedule service online by filling out our convenient form or by giving us a call at 334-321-0777, and someone will be glad to help. The team at Hyundai of Auburn looks forward to helping you keep your Hyundai vehicle running at its best for longer.
Hyundai of Auburn Auto Repair & Service
We have a team of qualified service technicians standing by to help you with any of your service-related needs. From oil changes, tire rotations, brake pads or transmission problems, we've got trained technicians who are able to help.
Please use the buttons below to schedule service at our dealership or contact our Service Department. You can also call us at 334-321-0777.
Search
Search By Keyword
Search By Filters
Saved
SAVED VEHICLES
You don't have any saved vehicles!
Look for this link on your favorites:
Once you've saved some vehicles, you can view them here at any time.
Contact
Today's Hours:
Open Today! Sales: 8:30am-7pm
Open Today! Service: 7:30am-5:30pm
Open Today! Parts: 7:30am-5:30pm